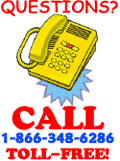 COMPLETE TOUR LIST
The last page of our tour listings, including all the tours from Sc to Z. On this page, such exciting activities as whale watching, sunset cruises, snorkeling and scuba diving can be found. Don't forget that to find more tours, use the links below to navigate to activities starting with other letters of the alphabet, as well as the other pages on our website. All these tours depart from Cabo San Lucas and most from Los Cabos too.
To continue to see our Site Map of informative pages that are not tours or excursions, click here.
If you have any questions about anything at all, please contact us toll-free anytime
.