THE CABO BOOZE CRUISE
This is the one, the only, Cabo San Lucas Booze Cruise. There is no other booze cruise in Cabo San Lucas this wild, this crazy, or this much fun! The FREE ALL-YOU CAN DRINK BOOZE will be flowing throughout the cruise, with dancing, reggae and party music, beer bongs, body shots, and of course, drinking contests! As seen on MTV!
If you're here for the famous Cabo San Lucas Spring Break, or just to have a great time and have fun in the sun, this is the tour for you. You'll enjoy beautiful views of El Arco as the sun sets over the Pacific, and have a great time.
Get ready to loosen up and get crazy - IT'S PARTY TIME!
You may also enjoy the Jungle Cruise by day with our Jungle Cruise Snorkeling Tour, or in whale season, our Jungle Whale Watching Tour.


Cruise Passengers: This tour makes a great shore excursion if your ship's schedule allows. It might be too late for some cruise ship schedules!

Runs: Tuesday through Sunday from 6:00PM to 8:00PM (summer) or 5:00 PM to 7:00 PM (winter). Exact start time will be shown on your confirmation.

Duration: 2 Hours

Departs: The Main Dock in Cabo San Lucas. Directions will accompany your reservation.

Includes:
English-Speaking Crew

All-You-Can-Drink Booze

Wild and Raunchy Spring Break-Style Fun

Dancing, Reggae and Party Music

All Taxes
Don't Forget:

Kids: 18 Years and Older.

Private Charters Available! See prices and info
JUNGLE BOOZE CRUISE (PER PERSON)

Ship Price
Hotel Price
Our Price
You Save!
NOT AVAILABLE!
$45.00
$35.00
15%
Limited Availability for March. TO MAKE A RESERVATION contact US. All other dates are available without calling.
BOOK NOW AND SAVE!
Date
Time
People
Finish!
OR CALL US TOLL-FREE
1-866-348-6286
Don't worry - English is our First Language!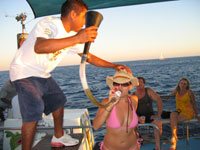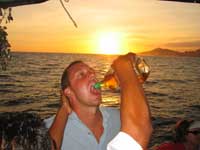 FREE WITH YOUR RESERVATION!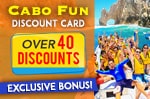 THE CABO FUN CARD
Our Advice:
This is a wild and crazy cruise with very loud music, raunchy spring-break style behavior, and is geared toward the 18-25 age group. If you are over this age group or may be offended by drunk or lewd behavior then we strongly recommend to consider one of our other booze cruises instead. If you are unsure, please err on the side of caution. We recommend to watch the video on the right side of the page before booking.