LOS CABOS SCUBA DIVING
Some of the prettiest beaches in the Cabo San Lucas area are at Santa Maria Cove and Chileno Bay. Here you will find yourself in a calm little bay teeming with a huge variety of tropical fish surrounding the graceful sea fans lining the floor of this protected cove - a beautiful, tranquil spot for diving, snorkeling and photography.
These areas are home to Sea Turtles and several species of Moray Eels. A colorful collection of invertebrates, starfish, sea fans, sea urchins and sponges fill the nooks, crannies and sea floor. These great dive sites are north of Cabo San Lucas, up the corridor in Los Cabos. You can also see giant manta rays, bat rays, eagle rays, nurse sharks here and much more.
Dive Sites: Santa Maria Cove, Chileno Bay, Blow Hole. Click Here to See Dive Site Descriptions.


CABO SCUBA DIVING INFORMATION TABLE

Jan. - March
April - June
July - Dec.
Avg. Visibility
25 - 40 Ft.
40 - 60 Ft.
60 - 100 Ft.
Water Temp.
65° - 70° F
65° - 75° F
75° - 85° F
Cruise Passengers: Yes! This tour makes a great cruise shore excursion.
Runs: Daily at 9:00 AM
Duration: Approximately 4 hours.
Departs: Scuba offices at Plaza Embarcadero, located on the Marina between Gali Plaza and the Arts and Crafts Center, 1 Block from the Cruise Ship Pier.
Includes: 2-tank Boat Dive, Roundtrip Boat Ride, all taxes, tanks and weights (full gear rental is available at the dive shop for $27.00), PADI Certified Divemaster, and bottled water.
Requires: Open Water Certification. Not certified? Click here.
Don't Forget:
Kids: All certified divers welcome. Kids same price as adults.
SCUBA DIVING THE LOS CABOS CORRIDOR

Ship Price

Hotel Price

Our Price

You Save!

N/A
$100.00

$89.00

10%

* Unlike most dive shops in Cabo, our prices include all taxes!
Full Gear Rental is available at the dive shop for $27.00.
BOOK NOW AND SAVE!

Date

Time

Divers

Choose One



OR CALL US TOLL-FREE
1-866-348-6286


Don't worry - English is our First Language!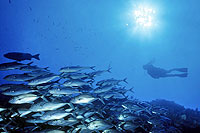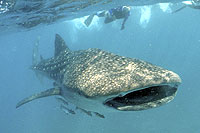 FREE WITH YOUR RESERVATION!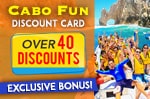 THE CABO FUN CARD
OUR ADVICE:
We think these dive sites are better than those closer to Cabo San Lucas, but not as good as the Cabo Pulmo marine preserve. If you have time (and money), check out Cabo Pulmo. Otherwise, these sites are a great way to spend a day under the water.
The boat ride is approximately 30 minutes each way, so if you get seasick easily, you may want to consider a local scuba dive instead.
Return to Scuba Diving