SUNRIDER WITH WHALES
During the months of January, February, and March in Cabo San Lucas, the waters are filled with magnificent Gray and Humpback whales, who arrive in the Baja every winter to calve. One of the most exciting activities you can do during these months is to spot for these gentle giants. The
Sunrider
offers you just such an opportunity, then follows it up with a beautiful sunset cruise, and a delicious dinner!
At 4:00 PM, you'll embark on a quest to spot the giants of the deep, our whales. You may be amazed to see them leaping out of the water near your boat! After an hour or so, the sun will dip low on the horizon, splashing the sky with colors of red, purple and orange, giving you once-in-a-lifetime photo opportunities over Cabo's most famous landmark, El Arco (The Arch), Finisterra and Land's End.
As the sun sets, your friendly crew will prepare a delicious BBQ Beef and Chicken Kebab Dinner on the deck, complete with Frijoles, Cheese Fondue, Fresh Fruit, Baked Potato, Guacamole and Tortilla Chips. You will enjoy your dinner on board the boat, sip drinks from the all-night open bar, and listen to the music and enjoy the entertainment throughout the cruise, making this one of the finest evenings in Cabo!
Cruise Passengers: Yes! This tour makes a great shore excursion. If your cruise schedule allows.
Runs: Daily except Mondays from 4:00 PM to 6:30 PM.
Duration: 2.5 Hours
Departs: The Marina in Cabo San Lucas. Directions will accompany your reservation.
Includes: Whale Watching, Open Bar, Sunset Cruise, Full Dinner, Onboard Entertainment and Games, Sunset Views.
Don't Forget:
Kids: All ages welcome. Kids under 10 are half price (one per adult - more kids are charged as adults).
SUNRIDER DINNER AND WHALES (ADULTS)

Ship Price

Hotel Price

Our Price

You Save!

N/A
$45.00

$41.00

10%

All Prices in U.S. Dollars and Include Taxes and Fees.

SUNRIDER DINNER & WHALES (KIDS UNDER 10)

Ship Price

Hotel Price

Our Price

You Save!

N/A
$22.50
$20.50
10%
THIS TOUR IS NO LONGER AVAILABLE
BOOK NOW AND SAVE!

Date

Time

Adults

Kids (0-9)



OR CALL US TOLL-FREE
1-866-348-6286


Don't worry - English is our First Language!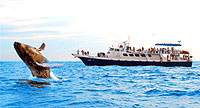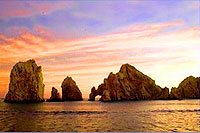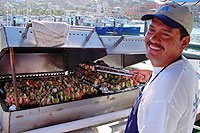 FREE WITH YOUR RESERVATION!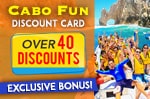 THE CABO FUN CARD
OUR ADVICE:
1. We recommend that you take a seasickness medication like Bonine or 24-hour Less Drowsy Dramamine 1 hour before departure on any boat cruise. It's always better safe than sorry! We just want you to relax and have a great time!
2. Don't forget your camera! You'll get some great photos of El Arco and Lover's Beach.
Return to
Sunset Cruises