PADI CERTIFICATION
This is the big kahuna - the mother of all scuba diving classes. Every single person who is certified to scuba dive in the world has taken this class. Now, you can also take this class, and in the warm waters of Cabo San Lucas instead of your cold murky waters of the northlands. At the end of this course, you'll be certified for life to dive in open water (meaning no caves, wrecks or other confined spaces but anywhere else) anywhere in the world with or without a divemaster to depths of 60 feet. We offer 2 options for certification.


PADI OPEN WATER CERTIFICATION

Includes equipment, instructor, and everything you need to get certified to scuba dive except books which are available at the dive shop or you can purchase them online in advance. At the end of the course, you'll take FOUR separate open water dives

.

Duration

Hotel Price

Our Price

You Save!

4 Days
$455.00

$399.00

10%

* Unlike most dive shops in Cabo, our prices include all taxes!
PADI OPEN WATER REFERRAL COURSE

Do all your book work and testing back home at your local dive shop before your vacation, and just complete the four open water dives in the warm waters of Cabo San Lucas!

Duration

Hotel Price

Our Price

You Save!

2 Days
$250.00

$225.00

10%

* Unlike most dive shops in Cabo, our prices include all taxes!
Both courses include all equipment and materials necessary to complete the course, refreshments, instructor, and both include FOUR open water dives.
CABO SCUBA DIVING INFORMATION TABLE

Jan. - March
April - June
July - Dec.
Avg. Visibility
25 - 40 Ft.
40 - 60 Ft.
60 - 100 Ft.
Water Temp.
65° - 70° F
65° - 75° F
75° - 85° F
Cruise Passengers: This is a multi-day course, so is not a good option for a cruise excursion.
Runs: Schedules vary, so please call us toll-free at
1-866-348-6286 or e-mail us to find out the current schedule for courses. If booking online, please write your requested dates in the "special instructions" box in the shopping cart.
Departs: Scuba offices at Plaza Embarcadero, located on the Marina between Gali Plaza and the Arts and Crafts Center, 1 Block from the Cruise Ship Pier.
Kids: Ages 10 years and up. Kids same price as adults. Kids under 18 require written parental consent.
BOOK NOW AND SAVE!

Start Date

People

Choose One



OR CALL US TOLL-FREE
1-866-348-6286


Don't worry - English is our First Language!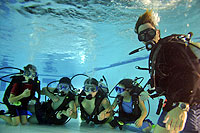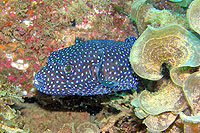 FREE WITH YOUR RESERVATION!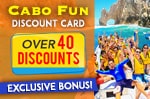 THE CABO FUN CARD
OUR ADVICE:
Scuba diving is an amazing experience. It's a window into a whole new world, one that you're the guest! We recommend everyone who is physically able to do scuba diving to give it a try.
RESTRICTIONS
1) No alcohol before diving
2) No hangovers
3) No flying for at least 24 hours after diving
4) All participants are required to fill out a Medical Questionnaire prior to diving. If you will answer yes to any of the listed items, you will need to bring a note from your doctor clearing you to scuba dive. This is a standard PADI form used by all PADI dive shops worldwide. Please review it prior to booking to determine if you will need to visit your doctor prior to your trip.