CABO SAN LUCAS BUGGIES
Join us for a great adrenaline charged adventure tour in Cabo San Lucas, get ready for a dune buggy excursion. If you are an adrenaline junkie this is the kind of tour you will love to include in your activities on your next vacation. This tour will give you fun and adrenaline, ride your very own buggy through the sand dunes, the beach and dirt roads of San Jose del Cabo, you will enjoy an adrenaline charged tour and great views of the wild side of Cabo.
THIS TOUR IS TEMPORARILY UNAVAILABLE
SEE OUR OTHER ATV TOURS
Enjoy magnificent views of mountains and deep cliffs as well as unique views of the Sea of Cortez. Our tour guides will choose the best roads to make sure you enjoy this great adventure. This is the kind of adventure you will enjoy and will want to do again, as you'll enjoy and best of all this excursion is for beginners and experienced drivers.


Cruise Passengers: Yes! This excursion is available to you and will work with most cruise schedules.
Runs: Three times daily at 9:00 AM, 12:00 PM and 3:00 PM. We recommend the morning tour during the summer months to "beat the heat".
Duration: 2.5 Hours Approximately. Actual Buggy Driving Time is Approximately 1.5 Hours.
Departs: Free Pickup at your Hotel.
Includes:
Round-Trip Transportation from Your Hotel
Bilingual Adventure Tour Guides
Buggy Tour
Helmet
Goggles
Bandana
Bottle of Water
All Taxes
Don't Forget:
Camera
Credit Card
Drivers License
Tennis Shoes
$10.00 per Buggy for National Park Entrance Fee
$30.00 Per Person for Damage Insurance (Optional) or Credit Card for Damage Deposit
Kids: Ages 8 and up. Drivers must be at least 18 years old and possess a valid drivers license. Kids same price as adults.
Requires: The ability to competently drive a manual shift transmission. The buggies are not automatics, they do have a clutch, and you will need to shift.
Note: Weight Limit is 450 lbs. (205 kg.). Not recommended for pregnant women or people with back problems.
SOLO BUGGY - DRIVER ONLY (1 PERSON)

Ship Price

Hotel Price

Our Price

You Save!

N/A
$175.00

$149.00

15%

DOUBLE BUGGY (PRICE IS FOR 2 PEOPLE)

Ship Price

Hotel Price

Our Price

You Save!

N/A
$250.00
$199.00
20%
THIS TOUR IS TEMPORARILY UNAVAILABLE
SEE OUR OTHER ATV TOURS

BOOK NOW AND SAVE!

Qty is the number of Buggies you want. If two people want to ride in one Buggy, choose a Qty of 1 and "Book Now". If you have another person who wants their own Buggy, click "Add More Tours" in the shopping cart, and add them to your cart.

Date

Time

Qty

Type



OR CALL US TOLL-FREE
1-866-348-6286


Don't worry - English is our First Language!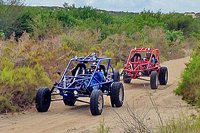 FREE WITH YOUR RESERVATION!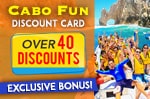 THE CABO FUN CARD
OUR ADVICE:
1. VERY IMPORTANT - Make sure to put on sunblock - SPF 30 or higher! The sun in Cabo is very strong - you don't want to be a lobster!
2. You'll get dirty, so plan on changing clothes right after the tour.
3. Opt for the morning tour during the summer months because it's really hot. You'll be glad you did!
Restrictions: Pregnant women or people with back injuries or chronic back pain can not participate in this tour. Cameras are not permitted during the tour, but you can use them before and after.
Insurance & Damage Deposits
You have 2 options for insuring against damage to the buggy. You will need to choose one of these on the day of the tour.
1. You can leave a credit card for a damage deposit. Your credit card will be charged only in the event that you damage the buggy, just like a rental car place does. This is not insurance, but you won't pay anything at all if you have a safe and damage-free trip.
2. For $30.00 USD per buggy, you can purchase insurance against any damage to the buggy. If you were to crash your buggy and damage it, you will not be charged anything if you choose this option.