CANDELARIA ATV TOUR
After complimentary hotel or marina pickup, you'll embark on an epic 30-mile ATV Tour, crossing riverbeds and roads, toward the tiny Mexican community of La Candelaria, with a population of about 60 people, existing much as it has for over 200 years.
En route, you'll visit El Salto, a small waterfall that runs most of the year, providing a watering hole for local wildlife and livestock. Next stop is Los Pozos (the wells) where a small, well-preserved church still stands after 100 years, and still serves the local people.
In La Candelaria, you'll see the church, orchards, and species of animals indigenous to the region such as doves, hares, and iguanas. The people of La Candelaria are known for their long lifespans - most residents live well into their 90s!
The last stop is beautiful Migrino Beach where you'll have fun in the sun, with time to play on the white sand beaches. In season, you may even see migrating gray whales off the coast.
See Also: La Candelaria RZR Tour


Cruise Passengers: Yes! This excursion is available to you and will work with most cruise schedules. Transportation from your cruise is even included in the price!
Runs: Daily at 9:00AM and 12:00PM
Duration: Approximately 3 Hours including transportation. Actual riding time is about 2 hours.
Departs: Free Pickup at your Hotel or the Cruise Ship Port / Marina.
Includes:
Friendly English Speaking Tour Guides

Semi-Automatic 4x4 ATV Quad

Helmet, Bandana and Goggles

Lunch

Bottles of Water
Don't Forget:
Sunblock (SPF 30+)
Camera
Tennis Shoes
Jeans
$10.00 Per Person for Ranch Conservation Fee
Kids: All ages welcome. No driver's license required. Kids who wish to drive their own ATV will be assumed to have prior ATV experience, will be required to take a driver's test prior to the tour, and are the sole responsibility of their parents. We recommend that kids under 12 years old and 100 lbs, or with little or no prior ATV experience ride with their parents because ATV riding is, by nature, a high risk activity. Kids same price as adults.
Note: Not recommended for pregnant women or people with back problems. Cameras are not permitted during the tour, but you can use them before and after.
SOLO ATV - DRIVER ONLY (1 PERSON)

Ship Price

Hotel Price

Our Price

You Save!

N/A
$120.00

$79.00

35%

DOUBLE ATV (PRICE IS FOR 2 PEOPLE)

Ship Price

Hotel Price

Our Price

You Save!

N/A
$150.00
$99.00
35%
BOOK NOW AND SAVE!

Qty is the number of ATVs you want. If two people want to ride on one ATV, choose a Qty of 1 and "Book Now". If you have another person who wants their own ATV, click "Add More Tours" in the shopping cart, and add them to your cart too.

Date

Time

Qty

Type


NEW! Make it PRIVATE, Just for You!
Add $10.00 Per Person
(Payable in Cash on the Day of the Trip)
Yes, we would like to make our tour private!



OR CALL US TOLL-FREE
1-866-348-6286


Don't worry - English is our First Language!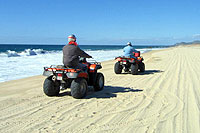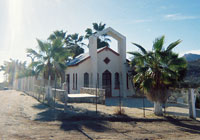 FREE WITH YOUR RESERVATION!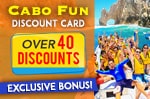 THE CABO FUN CARD
OUR ADVICE:
1. VERY IMPORTANT - Make sure to put on sunblock - SPF 30 or higher! The sun in Cabo is very strong - you don't want to be a lobster!
2. You'll get dirty, so plan on changing clothes right after the tour.
Insurance & Damage Deposits
You have 2 options for insuring against damage to the ATV. You will need to choose one of these on the day of the tour.
1. You can leave a credit card for a damage deposit. Your credit card will be charged only in the event that you damage the ATV, just like a rental car place does. This is not insurance, but you won't pay anything at all if you have a safe and damage-free trip.
2. For $20.00 USD per ATV, you can purchase insurance against any damage to the ATV. If you were to crash your ATV and damage it, you will not be charged anything if you choose this option.