RZR SUNSET HORSEBACK
Two of the most popular excursions in Cabo San Lucas in one awesome combo tour! Drive your own 4-passenger 800cc Polaris RZR 4x4 UTV along desert trails, through canyons and over sand dunes on a high-adrenaline fun off-road tour. We'll start from a local working ranch and end at beautiful Migrino Beach, lined by the Pacific Ocean in all its glory.
We'll switch our RZR for a healthy, well-trained horse and enjoy the bliss of horseback riding on the beach at sunset. The views are inherently romantic, with the Pacific waters lapping at your horse's feet, the photo opportunities are magical and the whole experience will leave you entranced with the magic of Los Cabos.

See Also: ATV Tour & Horseback Riding Combo
Cruise Passengers: Sorry, this tour is too late for most cruise ship schedules. If you're in doubt, ask us!
Runs: Tuesdays & Thursdays approximately 1.5 hours before sunset. The exact time will depend on what time of year, as the sunset time varies, but will be confirmed on your ticket.
Duration: 3 Hours Approximately including transportation. Actual riding time is about 2 hours.
Departs: Pickup at your Hotel or the Cruise Ship Pier.
Includes:
Round-Trip Transportation
Friendly English-Speaking Tour Guides
Polaris RZR 1000 EPS 4x4 UTV for up to 4 People
1 Hour Horseback Riding Tour
1 Hour 20 Minutes Polaris RZR Driving
Water Bottles
All Taxes
Don't Forget:
Sunblock (SPF 30+)
Camera
Tennis Shoes
$15.00 Per Person for Ranch Entrance Fee
Kids: All ages welcome, though not recommended for very young children. Must be 18 years old to drive. Kids same price as adults.
Note: Not recommended for pregnant women or people with back problems.
RZR & Sunset Horseback COMBO (PER RZR)

1 RZR With

Hotel Price

Our Price

You Save!

1 Person
$225.00

$195.00

13%

2 People
$295.00

$265.00

10%

3 People
$365.00

$325.00

10%

4 People
$425.00

$385.00

10%
BOOK NOW AND SAVE!

Qty is the number of RZR you want. If you have 4 people that all want to share one RZR, then click "1" in the "Qty" field, and "4 Px RZR" in the "Choose One" Box. If you have 4 people that want 2 separate RZR (2x2), then select "2" and "2 Px RZR"..

Date

Time

Qty

Type



OR CALL US TOLL-FREE
1-866-348-6286


Don't worry - English is our First Language!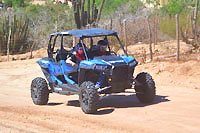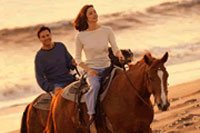 FREE WITH YOUR RESERVATION!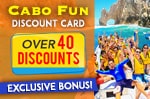 THE CABO FUN CARD
OUR ADVICE:
1. Ride in the morning to beat the heat - makes for a nicer ride. Late afternoon, though, during the winter, can reward you with sunsets on the beach.
2. VERY IMPORTANT - Make sure to put on sunblock - SPF 30 or higher! The sun in Cabo is very strong - you don't want to be a lobster!
3. You'll get dirty, so plan on changing clothes right after the tour.
Insurance & Damage Deposits
You have 2 options for insuring against damage to the RZR. You will need to choose one of these on the day of the tour.
1. You can leave a credit card for a damage deposit. Your credit card will be charged only in the event that you damage the RZR, just like a rental car place does. This is not insurance, but you won't pay anything at all if you have a safe and damage-free trip.
2. For $50.00 USD per RZR, you can purchase insurance against any damage to the RZR. If you were to crash your RZR and damage it, you will not be charged anything if you choose this option.