EAST CAPE TOUR BY ATV
Enjoy one of greatest off the road adventures in Cabo San Lucas, we'll start our excursion with a great view of the Sea of Cortez as well as mountainous area. This ATV tour will take you through dirt roads and paths, you'll ride for 3 hours at least and will be able to see beautiful places along the way, great photo opportunities as well as lots of nature.
This adventure will take you over a creek, then we'll take a deviation by a stream called dry lagoon, also we'll ride along some local farms, some of the most exciting roads are coming up and down the hills. After a while we'll arrive to a small village called shotgun stick, we'll take a small break there before heading to the beach. This tour will take you to incredible places in Cabo San Lucas!


Cruise Passengers: Yes! This excursion is available to you and will work with most cruise schedules.
Runs: Daily at 9:00 AM and 3:00 PM
Duration: 4 Hours Approximately
Departs: Free Pickup at your Hotel
Includes:
Don't Forget:
Camera
Credit Card
Drivers License
Tennis Shoes
$15.00 Per Person for Site Conservation Fee
Credit Card for Damage Deposit or $25.00 USD for Collision Insurance on ATV (your choice)
Extra Cash for Tips, Insurance, Fees, Etc.
Kids: Ages 6 and up. Must be 16 years old to drive, valid driver's license is not required. Kids same price as adults.
SOLO ATV - DRIVER ONLY (1 PERSON)

Ship Price

Hotel Price

Our Price

You Save!

N/A
$135.00

$119.00

10%

DOUBLE ATV (PRICE IS FOR 2 PEOPLE)

Ship Price

Hotel Price

Our Price

You Save!

N/A
$160.00
$144.00
10%
BOOK NOW AND SAVE!

Qty is the number of ATVs you want. If two people want to ride on one ATV, choose a Qty of 1 and "Book Now". If you have another person who wants their own ATV, click "Add More Tours" in the shopping cart, and add them to your cart too.

Date

Time

Qty

Type



OR CALL US TOLL-FREE
1-866-348-6286


Don't worry - English is our First Language!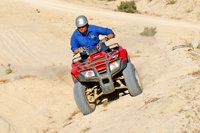 FREE WITH YOUR RESERVATION!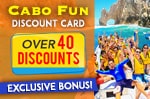 THE CABO FUN CARD
OUR ADVICE:
1. Ride in the morning to beat the heat - makes for a nicer ride. Late afternoon, though, during the winter, can reward you with sunsets on the beach.
2. VERY IMPORTANT - Make sure to put on sunblock - SPF 30 or higher! The sun in Cabo is very strong - you don't want to be a lobster!
3. You'll get dirty, so plan on changing clothes right after the tour.
Insurance & Damage Deposits
You have 2 options for insuring against damage to the ATV. You will need to choose one of these on the day of the tour.
1. You can leave a credit card for a damage deposit. Your credit card will be charged only in the event that you damage the ATV, just like a rental car place does. This is not insurance, but you won't pay anything at all if you have a safe and damage-free trip.
2. For $25.00 USD per ATV, you can purchase insurance against any damage to the ATV. If you were to crash your ATV and damage it, you will not be charged anything if you choose this option.
Restrictions: Pregnant women or people with back injuries or chronic back pain can not participate in this tour. Cameras are not permitted during the tour, but you can use them before and after.