Wild Desert RZR Tour
Get your adventure gear on, and get ready for an unforgettable experience in the wild outdoors of Cabo San Lucas! Along the way we will see stunning beaches, sand dunes, amazing rock formations, real desert, old villages, magnificent views and more. Our Polaris RZR Off-Road UTVs are fully loaded and will take you and 3 passengers on a comfortable and safe ride courtesy of the long suspension, while the 800cc engine provides plenty of power to allow you to enjoy one incredible ride on the wild side of Cabo.
Grab the wheel of the RZR and enjoy a sweet ride through mountains, along awesome trails used in the famous Baja-1000 race, to the beautiful arid Baja desert and ride along remote dirt roads through wild scenery to the vast expanses of beautiful Migrino and its white sandy beach, where you can often spot migrating gray whales from January through March. You will be utterly blown away by the entire experience, a blast from start to finish!
Cruise Passengers: Yes! This excursion is available to you and works with cruise schedules. Transportation from the pier is included in the price!
Runs: Daily at 9:00AM, 12:00PM, and 3:00PM
Duration: 5.5 Hours Approximately. Actual Driving Time is about 5 Hours.
Departs: Pickup at your Hotel or the Cruise Ship Pier.
Includes:
Round-Trip Transportation
Friendly English-Speaking Tour Guides
Polaris RZR 1000 EPS 4x4 UTV for up to 4 People
Water Bottles
Goggles for Dust Protection
Helmet
All Taxes
Don't Forget:
Sunblock (SPF 30+)
Camera
Tennis Shoes
$15.00 Per Person for Ranch Entrance Fee
Kids: All ages welcome, though not recommended for very young children. Must be 18 years old to drive. Kids same price as adults.
Note: Not recommended for pregnant women or people with back problems.
Wild Desert RZR Tour (PER RZR)

1 RZR With

Hotel Price

Our Price

You Save!

1 Person
$350.00

$315.00

10%

2 People
$500.00

$450.00

10%

3 People
$600.00

$540.00

13%

4 People
$700.00

$630.00

10%
BOOK NOW AND SAVE!

Qty is the number of RZR you want. If you have 4 people that all want to share one RZR, then click "1" in the "Qty" field, and "4 Px RZR" in the "Choose One" Box. If you have 4 people that want 2 separate RZR (2x2), then select "2" and "2 Px RZR"..

Date

Time

Qty

Type



OR CALL US TOLL-FREE
1-866-348-6286


Don't worry - English is our First Language!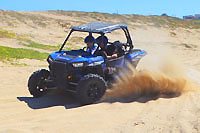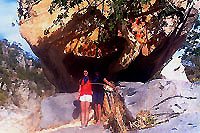 FREE WITH YOUR RESERVATION!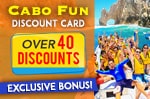 THE CABO FUN CARD
OUR ADVICE:
1. Ride in the morning to beat the heat - makes for a nicer ride. Late afternoon, though, during the winter, can reward you with sunsets on the beach.
2. VERY IMPORTANT - Make sure to put on sunblock - SPF 30 or higher! The sun in Cabo is very strong - you don't want to be a lobster!
3. You'll get dirty, so plan on changing clothes right after the tour.
Insurance & Damage Deposits
You have 2 options for insuring against damage to the RZR. You will need to choose one of these on the day of the tour.
1. You can leave a credit card for a damage deposit. Your credit card will be charged only in the event that you damage the RZR, just like a rental car place does. This is not insurance, but you won't pay anything at all if you have a safe and damage-free trip.
2. For $50.00 USD per RZR, you can purchase insurance against any damage to the RZR. If you were to crash your RZR and damage it, you will not be charged anything if you choose this option.