PRIVATE DRIVER SERVICE
Tired of the group scene? Want to see Cabo San Lucas and the Baja in style, with your own private driver? Looking for around-town chauffeur service to take you where you want to go? We've got just the thing for you. Our private drivers will take you wherever you want to go in the Los Cabos area, as well as share their expert knowledge of the area with you. Don't know what you want to see? We're happy to suggest an itinerary for you.
Our drivers all speak good English, and are all knowledgeable about the area. No matter what size of a party you have, we have just the package for you. We have a fleet of brand new 7-passenger Suburbans, 14-passenger Express Vans, luxurious Cadillac Escalade SUVs, and even full size buses if you have a large group. Whether you want an escort to the bustling nightlife scene of Cabo San Lucas, a chauffeur service for an event, or a day tour of San Jose del Cabo, we're here to help.
Cruise Passengers: Yes! This is a perfect shore excursion for your group.
Hotel Guests: This service is available to cruise passengers only. Hotel guests see our private tours or contact us for a quote.
Runs: Daily on your schedule.
Departs: Complimentary pick-up and drop-off at the cruise pier.
Includes: English-speaking Private driver, late model vehicle, one tank of gasoline, insurance, and tax.
Note: This private driver service includes transportation within the Cabo San Lucas, San Jose del Cabo and Los Cabos areas only. For transportation to places further afield like East Cape, Todos Santos or La Paz, see our Private Tours to those areas.
Private Tour / Transportation Rate Table
The same rates apply for tours as well as chauffeur service.


Price is PER VEHICLE and not per person.
This works out to as little as $11.75 Per Person!


Extra Hours Available for $55.00 Per Hour.



Vehicle
3 Hours
6 Hours
12 Hours
Suburban (1-7 px)
$149.00
$199.00
$340.00
Express Van (1-14 px)
$165.00
$219.00
$345.00
Escalade (1-5 px)
N/A
$470.00
$695.00


OR CALL US TOLL-FREE
1-866-348-6286


Don't worry - English is our First Language!

Chevrolet Suburban (1-7 People)

Chevy Express Van (1-14 People)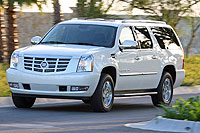 Cadillac Escalade (1-5 People)
FREE WITH YOUR RESERVATION!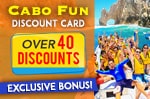 THE CABO FUN CARD
See More
Private and Group Tours
Notes:
Many places in San Jose del Cabo are closed on Sunday, so consider this when deciding what day to visit San Jose del Cabo.
Our drivers all speak English and are knowledgeable about the area, however they are not certified tour guides. If you are seeking a private tour guide, we recommend our Private City Tour instead.