CABO DELUXE CITY TOUR
This is a PRIVATE TOUR. You will be the only ones in the vehicle with your tour guide - no other guests.
Join our PRIVATE tour guide on a narrative adventure through the storied past and present of Los Cabos. Start your adventure with an excursion aboard a glass bottom boat, for a visit to Lands End, El Arco (The Arch), the Sea Lion Colony and our famous "Lover's Beach". Visit the beautiful marina area, and learn about the Missionaries, Pirates, Indians, and the Colonization.
Next we're off on a journey through the Tourist Corridor, featuring some of the finest ocean, desert, and mountain views anywhere, making a stop at the famous glass blowing factory where you can see how glass is made as well as shop for souvenirs.
The final destination is the charming colonial town of San Jose del Cabo where we'll enjoy a delicious meal in one of the town's most popular local restaurants. After lunch, we'll take in the historic mission and lovely town square and finish it all off with a stroll through the gallery district, where you'll find artesanos from the 13 different states in Mexico, and free time for exploring the town and shopping before we deliver you safely back to your doorstep to continue enjoying Cabo San Lucas!
Cruise Passengers:
Want more flexibility? See our
Private Los Cabos for Cruise Passengers
.
Cruise Passengers:
Yes! This tour makes a great shore excursion. Transportation from pier is included, very convenient!
Runs: Monday through Friday at 9:30 AM
Duration: 6 Hours approximately.
Includes:
PRIVATE Vehicle and Tour Guide
Hotel or cruise ship pickup and dropoff
Round-trip air-conditioned transportation
4 drinks (beer, water, sodas) aboard vehicle
Lunch at a Local Restaurant in San Jose
Glass Bottom Boat Tour of Land's End
Los Cabos Hotel Pickup Times
Detailed Directions will accompany your reservation.

San Jose del Cabo
Los Cabos Corridor
Cabo San Lucas
8:30 AM
9:00 AM
9:30 AM
Don't Forget:
Kids: All Ages Welcome.
PRIVATE DELUXE CITY TOUR (UP TO 6 PX)

Ship Price

Hotel Price

Our Price

You Save!

N/A
$525.00

$445.00

15%

PRIVATE DELUXE CITY TOUR (UP TO 10 PX)

Ship Price

Hotel Price

Our Price

You Save!

N/A
$830.00
$625.00
25%
Price is PER VEHICLE and not per person.
This works out to as little as $62.33 Per Person!
If you have a larger group, click here for a quote.

PRIVATE DELUXE CITY TOUR (UP TO 15 PX)

Ship Price

Hotel Price

Our Price

You Save!

N/A
$1200.00
$835.00
30%
BOOK NOW AND SAVE!

Date

Time

People



OR CALL US TOLL-FREE
1-866-348-6286


Don't worry - English is our First Language!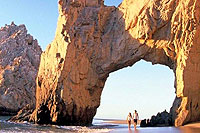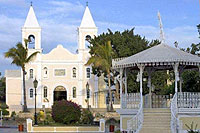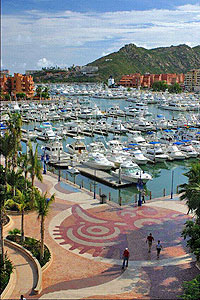 FREE WITH YOUR RESERVATION!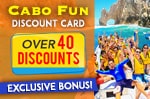 THE CABO FUN CARD
OUR ADVICE:
Coming on a cruise ship? If so, you'll see an excursion called the "Coastal Highlights" tour for about this same price. Note that this tour includes lunch, a boat ride, and a more extensive tour. '
Customer Feedback:
"I just returned from Los Cabos in January and had booked a trip online with you . It was a city tour of San Jose and Los Cabos. The driver was awesome, we had a great time and I just wanted to let you know that I really appreciated the service. I am a travel agent and will not hesitate to use your services as I found the staff was great! We were picked up at the Riu Santa Fe promptly and kudos to the tour operator! Thanks again!" - Wendy from Manitoba