THE LA PAZ EXPERIENCE
This is a PRIVATE TOUR. You will be the only ones in the vehicle with your tour guide - no other guests.
Journey 300 years back in time through Baja California`s past as we take a fascinating trip to the state`s capital, La Paz. Here, we'll explore the 18th century Cathedral and the fantastic main plaza, where you'll have free time to shop for tax free authentic Mexican handicrafts.
After complimentary hotel pickup, your journey through the Baja begins with a visit two of the region's most charming areas - East Cape and El Triunfo (a turn-of-the-century silver mining town). East Cape is a fishing village with beautiful hotels, restaurants, cafes, markets, private airstrip, and lots of fishing boats. El Triunfo is called locally a "ghost town", not because of ghost stories, but because of the peaceful energy that radiates from its old walls and houses inviting relaxation and reflection. Then it's on to La Paz for lunch at a nice local restaurant and to tour the city, including the anthropologic museum, 18th century cathedral and tax-free shopping area.
Return along the scenic coastal highway, stopping at the artsy town of Todos Santos, where you'll see the real Hotel California from the famous Eagles song, and catch a dramatic Pacific sunset (in the winter months) before returning to Los Cabos. A true sightseeing experience in the Baja!
See Also:
La Paz Baja Adventure
(Public)

Cruise Passengers:
Yes! This tour makes a great cruise shore excursion. You pick up the best schedule for you!
Runs: Daily on Your Schedule. We can start anytime between 6:30 AM and 9:00 AM. Please be aware some attractions may not be open on Sundays.
Duration: 10 Hours Approximately.
Includes:
PRIVATE Vehicle and Tour Guide
Hotel pickup and dropoff (in most cases)
Round trip air-conditioned transportation
English speaking tour guide
Lunch at a local restaurant
Soft Drinks and Water aboard vehicle
Narrated tour of the Baja Peninsula.
Don't Forget:
Kids: All Ages Welcome.
PRIVATE BAJA ADVENTURE (UP TO 6 PEOPLE)

Ship Price

Hotel Price

Our Price

You Save!

N/A
$750.00

$620.00

20%

Price is TOTAL COST for up to 6 People, not per person.
Each extra person is additional (see below).

PRIVATE BAJA ADVENTURE (EXTRA ADULTS)

Ship Price

Hotel Price

Our Price

You Save!

N/A
$102.00
$89.00
10%

Prices are in U.S. Dollars and Include all Taxes.

PRIVATE BAJA ADVENTURE (EXTRA KIDS 5-11)

Ship Price

Hotel Price

Our Price

You Save!

N/A
$75.00
$67.50
10%
BOOK NOW AND SAVE!

Date

Time

People

Extra Adults

Extra Kids



OR CALL US TOLL-FREE
1-866-348-6286


Don't worry - English is our First Language!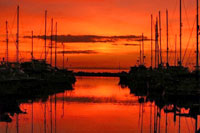 FREE WITH YOUR RESERVATION!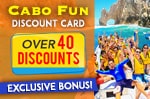 THE CABO FUN CARD
OUR ADVICE:
This is the best tour to see the entire Baja area. You'll see the great Pacific Coastline of the Baja including Todos Santos and La Paz.
CUSTOMER EXPERIENCE
"Yesterday's tour was a pure delight! Luis is a superb guide and driver. He's so knowledgeable and personable. The whole day went perfectly and I can't think of any improvement needed. Perhaps the road from Todos Santos...but nothing else. Please tell Luis thanks again for a great trip to La Paz and Todos Santos!" - Lisa from Elk Grove, California