SANTIAGO JEEP SAFARI
Set off on an epic Jeep tour through the wilds of the Baja, worlds apart from the tourist area of Cabo San Lucas. Climb into your 4x4 Jeep Wrangler and join us on our quest to tame the smattering of off-road trails and dirt roads that dot the desert landscape.
We'll hit the open highway, traveling north of San Jose del Cabo, to the small town of Miraflores, where we'll take a rest stop. Back on the trail, we'll have fun crossing rivers and admiring the unique flora and fauna of the area as we make our way to the isolated oasis of Santiago, a beautiful and colorful town where we'll visit one of Cabo's oldest missions.
On the road again, we'll 4x4 our way to the untamed wilderness of Fox Canyon, where we'll exit the Jeeps and take a short nature walk where your guide will share with you the natural wonders of the Baja. The walk culminates at a beautiful waterfall, where we can cool off with a swim in the pool below and relax.
When we're ready to continue the tour, we'll drive back to San Jose del Cabo and finish things off with a delicious lunch and refreshments at Baja Brewing, Cabo's first brewery, set in the town's famed historic art district. A real Baja exploration!


Cruise Passengers: This tour makes a great cruise shore excursion. Pick-up and drop-off from pier is included!
Runs: Daily at 9:15 AM. Exact pick-up time depends on your hotel location or cruise ship schedule.
Duration: Approximately 7 Hours
Departs: Complimentary Pickup and Dropoff at Your Hotel, Villa or Cruise Ship Pier
Includes: Hotel and Cruise Ship Pickup and Dropoff, English-Speaking Tour Guide, Park Entrance Fees, 4x4 Jeep Wrangler, Lunch at Baja Brewing in San Jose del Cabo, Refreshments and Snacks.
Kids: Ages 4 and up, but must be at least 18 years old with a valid drivers license to drive.
PRIVATE SANTIAGO JEEP TOUR (PER JEEP)

Ship Price

Hotel Price

Our Price

You Save!

N/A
$415.00

$373.00

10%

Price is for up to 3 people in 1 Jeep. Each Jeep seats only 4 people (including the guide). Guide can drive while you take photos and relax, or you can drive if you want to. If you are 4 people and want to all be in one Jeep, you that's ok - your guide can drive beside in a separate vehicle, but there is a charge of $112.50 for the 4th person. Please request what you want your configuration to be when booking.
BOOK NOW AND SAVE!
"Extra Passenger" means if you have a 4th person in any of your Jeeps, choose how many "4th Persons" you have.
Each will be charged $112.50. See Note Above for Details.

Date

Time

Total
People
# of
Jeeps
Extra
Pass.



OR CALL US TOLL-FREE
1-866-348-6286


Don't worry - English is our First Language!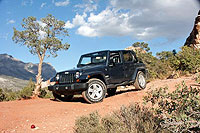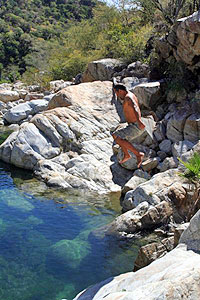 FREE WITH YOUR RESERVATION!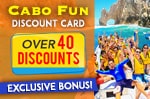 THE CABO FUN CARD
Don't Forget:
Camera
Valid Drivers License (if driving)
Swimsuit
Towel
Sunglasses
Extra money for Beer or Souvenirs.
Approximate Itinerary:
Before 9:15 - Hotel & Ship Pick-up
9:15 - Hit the Road to Santiago
10:00 - Miraflores Town
11:00 - Santiago Town
11:30 - Waterfalls, Photos & Swim
12:15 - Head Back to San Jose
1:00 - Lunch at Baja Brewing
2:30 - Drop-off at Hotel or Ship
Large Group? We can accommodate up to 100 people in a fleet of Jeeps! Contact us.