LOS CABOS DUNE BUGGIES
THIS TOUR IS NO LONGER AVAILABLE
PLEASE SEE OUR CURRENT OFF-ROAD TOURS
Put your pedal to the metal and let's have some fun! We'll put these bad boys to the test as we hit the best of the Baja. We'll kick up sand alongside the Pacific Ocean, pound out the trail through dry river beds, and explore Half Moon Canyon, before returning to the beach and it's seemingly endless vistas.
These fully automatic dune buggies are built for fun, and they are perfect for the off-road environment of the Baja. You'll steer your own 2-seat ATX Rail Baja Buggy over Pacific beaches and through desert canyons on a dune buggy tour of the coastal regions of Baja California Sur, north of Cabo San Lucas. An adrenaline-pumping good time!
See a map of your Cabo Dune Buggy tour route.
Cruise Passengers: Yes! This tour makes a great shore excursion. It departs from walking distance from the pier!
Runs: Twice Daily except Sundays at 12:00 PM and 3:00 PM. No afternoon tour during the summer months (too hot!).
Duration: Approximately 3.5 Hours, including transportation.
Departs: Complimentary Hotel Pick-up and Drop-off. Cruise Passengers meet at Senor Frog's at the marina, just a short walk from your cruise ship.
Includes: English Speaking Guide, Round-Trip Transportation, Fully Automatic XRail Dune Buggy, Bottled Water, Helmets, Goggles, and Bandanas.
Not Included: $5.00 per person National Park Entrance Fee, Optional $35.00 per buggy damage insurance. Both can be paid in cash or by credit card onsite.
Don't Forget:
Biodegradable Sunscreen (SPF 30+)
Camera
Valid Drivers License (if driving)
Tennis Shoes
Wear Clothes You Can Get Dirty (You will!)
Kids: Ages 6 and up. Drivers must be at least 16 years old and possess a valid drivers license.
Restrictions: Weight Limit is 450 lbs. (205 kg.). This tour is not for pregnant women or people with severe neck, heart or back problems or epilepsy.
DUNE BUGGY ADVENTURE (PER BUGGY)

Solo Buggy

Double Buggy

$140.00
$180.00
Solo buggy is for 1 person in their own dune buggy.
Double buggy price is for 2 people sharing one buggy.
THIS TOUR IS NO LONGER AVAILABLE
PLEASE SEE OUR CURRENT OFF-ROAD TOURS
BOOK NOW AND SAVE!

Qty is the number of Buggies you want. If two people want to ride in one Buggy, choose a Qty of 1 and "Book Now". If you have another person who wants their own Buggy, click "Add More Tours" in the shopping cart, and add them to your cart.

Date

Time

Qty

Type



OR CALL US TOLL-FREE
1-866-348-6286


Don't worry - English is our First Language!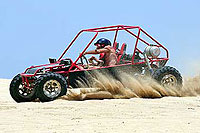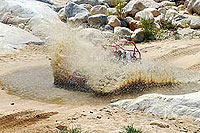 FREE WITH YOUR RESERVATION!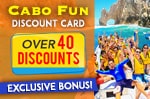 THE CABO FUN CARD
OUR ADVICE:
1. VERY IMPORTANT - Make sure to put on sunblock - SPF 30 or higher! The sun in Cabo is very strong - you don't want to be a lobster!
2. You'll get dirty, so plan on changing clothes right after the tour. Closed toed shoes are required.
CUSTOMER FEEDBACK:
"This tour was spectacular. We had a lot of fun. We slammed those machines all around. The food at the end of the tour was spectacular. The guides were confident, hard working, and motivated. They were funny and knowledgeable. They were fun to be around. They were nice and made the tour more worth while. My machine worked great, went fast, had power, ran great. This is a gritty tour. You will be sandy and dusty when it is all said and done. Do not wear nice clothes, get ready to have some fun as well!" - Benjamin from Foresthill, California