PACIFIC BEACH ATV TOUR
Ride your own ATV 4-Wheeler on the beautiful Pacific beaches of Ensenada Mexico! This is a fun way to spend a few hours of your cruise stop or stay in Ensenada. Fun for the whole family, you can ride along the surf, with free time to open 'em up on the beach.
The beautiful thing about these Ensenada beaches is they are rarely crowded, so you have lots of room to roam and play. The Sierra San Pedro Mártir mountains form a beautiful backdrop for your day of fun at the beach in Ensenada, as you ride free with the ocean breeze on our Ensenada ATV Tour!
Runs: Daily at 9:00 AM and 12:30 PM.
Duration: Approximately 2.5 hours.
Departs: Free Pickup at your Hotel or the Cruise Ship Port / Marina.
Includes: Helmet, Semi-automatic ATV, Bilingual Guide (English and Spanish).
Don't Forget:
Sunblock (SPF 30+)
Camera
Tennis Shoes
Jeans
Credit Card for Damage Deposit
Kids: All ages welcome. No driver's license required. Must be 12 years old to drive solo. Kids age 12 and under ride for free with parent on a solo ATV.
Note: Not recommended for pregnant women or people with back problems.
SOLO ATV - DRIVER ONLY (1 ADULT)

Ship Price

Hotel Price

Our Price

You Save!

$83.00
$65.00

$58.50

30%

Kids age 12 and under ride for free with parent on a solo ATV.

DOUBLE ATV (PRICE IS FOR 2 ADULTS)

Ship Price

Hotel Price

Our Price

You Save!

NOT AVAILABLE!
$80.00
$72.00
10%
DUE TO LIMITED RIDING AREA, THIS TOUR IS NO LONGER AVAILABLE. HOWEVER, WE WILL STILL VISIT THE BEACH ON OUR MOUNTAIN ATV TOUR.
BOOK NOW AND SAVE!

Qty is the number of ATVs you want. If two people want to ride on one ATV, choose a Qty of 1 and "Book Now". If you have another person who wants their own ATV, click "Add More Tours" in the shopping cart, and add them to your cart too.

Date

Time

Qty

Type



OR CALL US TOLL-FREE
1-866-348-6286


Don't worry - English is our First Language!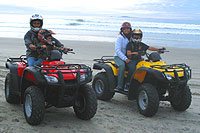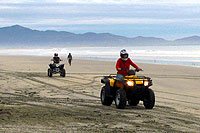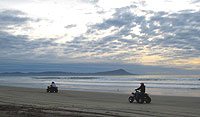 FREE WITH YOUR RESERVATION!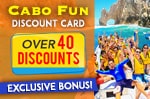 THE CABO FUN CARD
OUR ADVICE:
In the winter months, it can get chilly in Ensenada - make sure to bring a windbreaker during those months.
We recommend to wear jeans or long pants even in summer. It helps protect your legs against the heat of the engine while you ride.
Itinerary:
On this tour, it takes about 10-15 minutes to get to the beach. Once at the beach, you drive your ATV there for about 1 hour. Then we drive the ATVs back to the city and do a little city driving. Total riding time is about 2 hours.