ATV RENTALS
Want to explore Ensenada on an ATV, but you don't want the tour experience? Lucky you! We now offer ATV Rentals! You just rent the ATV and you're free to roam as you like, within the specified areas of course. You can rent the ATV for just a couple of hours or all day long - it's up to you.
Runs: Daily, anytime between 9:00 AM and 5:00 PM.
Duration: Rent by the Hour, 2 Hours Minimum.
Departs: The ATV Rental Shop just steps from the Cruise Ship Pier downtown.
Includes: Helmet, Semi-automatic ATV
Don't Forget:
Kids: All ages welcome. Must be 16 years old with a valid driver's license to drive solo. Kids age 12 and under ride for free with parent on a solo ATV.
Note: Not recommended for pregnant women or people with back problems.
ENSENADA ATV RENTAL (PER HOUR)

Ship Price

Hotel Price

Our Price

You Save!

N/A
$30.00 / Hr

$25.50

15%

Ride at your own risk. Insurance is not available for ATVs.
BOOK NOW AND SAVE!

If you have another person who wants their own ATV, click "Add More Tours" in the shopping cart, and add them to your cart too.

Date

Start Time

Hours

Type



OR CALL US TOLL-FREE
1-866-348-6286


Don't worry - English is our First Language!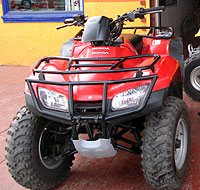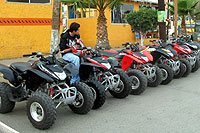 FREE WITH YOUR RESERVATION!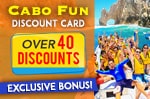 THE CABO FUN CARD
OUR ADVICE:
In the winter months, it can get chilly in Ensenada - make sure to bring a windbreaker during those months.
We recommend to wear jeans or long pants even in summer. It helps protect your legs against the heat of the engine while you ride.