WILD CANYON EKOPARK
The newest and most exciting canopy tour in Cabo San Lucas, the Wild Canyon Ekopark takes canopy to a new level - tandem! The only canopy tour in the Mexican Riviera where you can ride together with one, two, or even three of your friends! Brought to you by the same folks behind the famous Los Veranos Canopy Tour in Puerto Vallarta, you know this thrilling tour is safe and fun for everyone.
Ride a series of eight of the biggest zip lines in the Baja (aptly named the MONSTER ZIP) across a wild and scenic canyon, including the longest zip line in the Baja - 815 meters, over a HALF-MILE LONG, and you'll be suspended 328 feet above the ground!! - here you'll reach speeds of over 90 Km/hr (56 mph)!!
After the tour, head for the Lion's Den restaurant at the top of the canyon for refreshments, and to choose a photo of you on the canopy tour for purchase (optional).
Extreme Combos: Add Bungee Jumping, Sling Swing or ATV Tours at a discount! Click Here!


Cruise Passengers: Yes! This excursion is available to you and works with cruise schedules. Transportation from the pier is included in the price!
Runs: Three times daily at 9:00 AM, 10:30 AM* and 12:00 PM. * The 10:30 AM slot is only available to cruise passengers.
Duration: Approximately 3.5 Hours, including transportation.
Departs: Complimentary Pickup and Dropoff at Your Hotel, the Cruise Pier in Cabo San Lucas (10:30 AM time slot only) or at the canopy tour office on the marina.
Includes: Hotel and Cruise Ship Pickup and Dropoff (in most cases), Expert Bilingual Guides, Safety Briefing, Canopy Tour, Bottled Water, Visit to Animal Kingdom Wildlife Sanctuary.
Kids: Ages 8 and up. Kids prices apply to ages 8-10 years. Ages 11 and up are considered adults.
Restrictions: Must be at least 8 years old to do this tour. Weight Limit is 300 lbs. For safety reasons, people with a history of respiratory or cardiac problems and pregnant women are not permitted on the tour. Guests must be able to walk a 20 degree slope for up to 10 minutes. Cruise ship pickup is only available for the 10:30 AM tour, but Hard Rock Cafe is within walking distance of the pier for the later tours. Cameras are not permitted during the tour, but you can use them before and after.
WILD CANYON EKOPARK (PER PERSON)

Ship Price

Hotel Price

Our Price

You Save!

N/A
$110.00

$93.50

15%

Your cruise ship doesn't offer this, but you can book it here!

WILD CANYON EKOPARK (KIDS 8-10)

Ship Price

Hotel Price

Our Price

You Save!

N/A
$75.00
$63.75
30%
If you have an observer, please specify in the "special instructions" box when booking.
$30 per person charge is paid in cash on the tour date.

WILD CANYON EKOPARK (OBSERVER ONLY)

Ship Price

Hotel Price

Our Price

You Save!

N/A
$30.00
$30.00
FREE CARD
BOOK NOW AND SAVE!
Note: The 10:30 AM slot is only available to cruise passengers.

Date

Time

Adults

Kids



OR CALL US TOLL-FREE
1-866-348-6286


Don't worry - English is our First Language!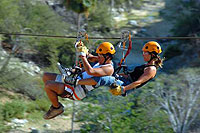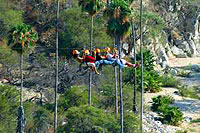 FREE WITH YOUR RESERVATION!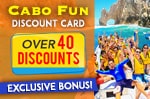 THE CABO FUN CARD
Zip Line Statistics
Line
Length
Height
#
Ft
M
Ft
M
1
164
50
32
10
2
985
300
330
100
3
2625
800
360
110
4
295
90
245
75
5
656
200
400
120
6
2625
800
360
110
7
345
105
1835
560
8
2675
815
295
90
Note:
Photos of your tour will be available for purchase after the tour.
Don't Forget:
Camera
Tennis Shoes
Sunblock (SPF 30+)
$15.00 for Ecological Park Entrance Fee
Extra money for food, drinks
Our Advice:
In the hot summer months, pick the 9:00 AM tour to beat the heat. There is some strenuous uphill walking on this tour, so be prepared for that.
Cruise passengers - the best time for you is 10:30 AM. It will fit almost all cruise ship schedules, and you get free pickup at the pier. You can do other times, of course, if they work with your ship schedule - you'll just walk into town, to the canopy office near the Hard Rock Cafe. This is the hottest new tour in Cabo!