FUN IN THE SUN
Take a fast and fun ride in our speedboat! What a fun way to spend a few hours! At speeds of nearly 50 mph, you can skim over the water on your way to snorkel at Santa Maria Cove or Chileno Bay, spend a little time on one of the great beaches, go whale watching (in season), or just take an ecological tour of the Cabo San Lucas coastline. The itinerary is up to you - as long as there's time, we'll go wherever you want. A fun trip for the family.
THIS TOUR IS NO LONGER AVAILABLE
SEE OUR CURRENT WATERSPORT TOURS
Cruise Passengers: Yes! This exclusive private charter is perfect for a cruise shore excursion! This charter is flexible to fit all cruise ship schedules.
Note: The Speedboat can take up to a maximum of 6 adults.
Includes: Bilingual Captain, Speedboat ride, Snorkeling Equipment, Refreshments.
Don't Forget:
Kids: All Ages are Welcome.
Price: $255.00 $230.00 Per 2 Hours
THIS TOUR IS NO LONGER AVAILABLE
SEE OUR CURRENT WATERSPORT TOURS
BOOK NOW AND SAVE!
Qty is the number of 2 hour time slots.
If you want the boat for 4 hours, enter a Qty of 2.

Date

Time

People

Qty

PLEASE TYPE IN THE BOX BELOW
Any special requests or instructions, or other things you think we should know.



OR CALL US TOLL-FREE
1-866-348-6286


Don't worry - English is our First Language!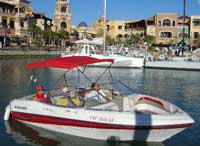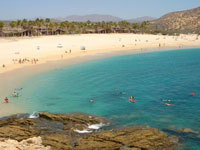 FREE WITH YOUR RESERVATION!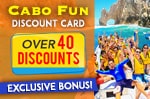 THE CABO FUN CARD
OUR ADVICE:
Something a little different - fun that you can do it with just your family too. We'd recommend 4 hours if you're going to go snorkeling at Chileno Beach or Santa Maria Cove, but you can do it in 2, you just won't have as much time.