DOLPHIN ENCOUNTER
The dolphin encounter is a popular way for people who don't feel comfortable in deep water to interact with real live dolphins. You stand on an underwater platform instead of swimming with the dolphins, which makes some people feel more comfortable. It also is popular with people who want to experience the dolphins, but are on a budget.
The activity starts with an informative introduction by your dolphin trainer that will help you understand the physical characteristics of the dolphins, as well as their communication and habits. Next, you'll enter the water for a thrilling 20 minute session, where you'll get to touch the dolphins, feel their unique skin, and even get a friendly handshake and a kiss!


Cruise Passengers: This activity is not available to cruise ship passengers. For a similar, much less expensive and very fun dolphin swim in Cabo that is open to all cruise passengers, click here.
Runs: Monday through Friday at 3:00PM, and Saturday and Sunday at 1:00PM.
Duration: 30 minutes.
Departs: One-Way Transportation from Selected Hotels. Dolphinariums are located in both Cabo San Lucas and San Jose del Cabo, so we will assign you to the one that is closest to your hotel. If you have a preference, just write it in the special instructions box when booking.
Includes:
One-Way Transportation (Pick-Up)
Life Jacket
Water
Towel
Safety Briefing & Presentation
Verbal Dolphin Education
Close up In-Water Interaction
Dolphin Fin Shakes
Dolphin Kisses
Observers: It is allowed to come as an observer and not participate in the dolphin swim, at a cost of $30.00 per person, payable in cash on the day of the trip. Observers must be booked in advance, so you will need to write the number of observers in the special instructions box when booking.
Don't Forget:
Kids: Ages 1 and up. Kids 4-8 years old must be accompanied in the water by a paying adult. Parents may hold kids aged 1-3 years free of charge. Kids are the same price as adults.
DOLPHIN ENCOUNTER (ADULTS)

Ship Price
Hotel Price
Our Price
You Save!
N/A
$119.00
$113.00
$6.00
All prices are in U.S. Dollars and Include all Taxes

DOLPHIN ENCOUNTER (KIDS 4-8)

Ship Price
Hotel Price
Our Price
You Save!
N/A
$99.00
$94.00
$5.00
BOOK NOW AND SAVE!
NOTE: If you have kids, please write their ages in the Special Instructions box on the next page.
Date
Time
Adults
Kids (4-8)


OR CALL US TOLL-FREE
1-866-348-6286
Don't worry - English is our First Language!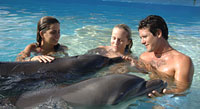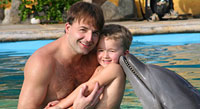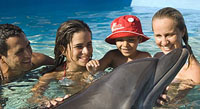 FREE WITH YOUR RESERVATION!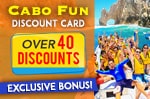 THE CABO FUN CARD
Restrictions:
No sunscreen or jewelry. Women who are between 3 months and 7 months pregnant can do this activity, but at your own risk. If pregnant outside of these months, you cannot do this activity. Cameras are not permitted during the tour, but you can use them before and after.