CABO PULMO JEEP TOUR
Described by famed oceanographer Jacques Cousteau as "The Aquarium of the World', Cabo Pulmo National Marine Park is truly the jewel of the Baja. Cabo Pulmo was recently declared by scientists to be "the most robust marine preserve in the World", with marine life here increasing by a whopping 460% over the past 10 years, so even if you've seen Cabo Pulmo before, it just keeps getting better and better.
We now offer a new and rewarding way to experience Cabo Pulmo with our private Jeep tour. You can drive yourself, or you can let your guide do the driving, it's your choice. We'll cruise along one of the Baja's most scenic dirt roads, with the Sea of Cortez our constant companion. We'll head off road and discover some mountain trails as well, including a visit to the quaint fishing village of Pesquero, getting some panoramic photo opportunities in the process.
We'll stop for a snack at Playa del Arboritos, located inside the national park, then head into the blue waters for snorkeling on the only living coral reef on the West Coast of the Americas. Hungry from snorkeling, we'll enjoy lunch at a local restaurant, then return back to Cabo San Lucas (or San Jose del Cabo), enjoying vistas of the desert landscape.


Cruise Passengers: Yes! This tour is available to you for a cruise shore excursion. WeŽll pick you up from your cruise pier.
Runs: Daily at 9:00 AM. Exact pick-up time depends on your hotel location or cruise ship schedule.
Duration: Approximately 7 Hours
Departs: Complimentary Pickup and Dropoff at Your Hotel, Villa or Cruise Ship Pier
Includes:
Hotel and Cruise Ship Pickup and Dropoff
English-Speaking Tour Guide
National Park Entrance Fees
4x4 Jeep Wrangler
Snorkeling Equipment
Lunch at a Local Restaurant
Kids: Ages 4 and up, but must be at least 18 years old with a valid drivers license to drive.
PRIVATE CABO PULMO JEEP TOUR (PER JEEP)

Ship Price

Hotel Price

Our Price

You Save!

N/A
$415.00

$373.00

10%

Price is for up to 3 people in 1 Jeep. Each Jeep seats only 4 people (including the guide). Guide can drive while you take photos and relax, or you can drive if you want to. If you are 4 people and want to all be in one Jeep, you that's ok - your guide can drive beside in a separate vehicle, but there is a charge of $112.50 for the 4th person. Please request what you want your configuration to be when booking.
BOOK NOW AND SAVE!
"Extra Passenger" means if you have a 4th person in any of your Jeeps, choose how many "4th Persons" you have.
Each will be charged $112.50. See Note Above for Details.

Date

Time

Total
People
# of
Jeeps
Extra
Pass.



OR CALL US TOLL-FREE
1-866-348-6286


Don't worry - English is our First Language!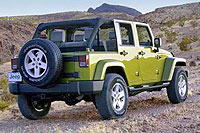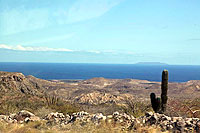 FREE WITH YOUR RESERVATION!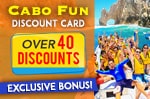 THE CABO FUN CARD
Don't Forget:
Camera
Valid Drivers License (if driving)
Swimsuit
Towel
Sunglasses
Extra money for Drinks or Souvenirs.
Large Group? We can accommodate up to 100 people in a fleet of Jeeps! Contact us.