DELUXE COASTAL CRUISE
The Cabo Rey is the largest, most luxurious boat in all of Cabo San Lucas. Everything on this luxury catamaran is high-class - from the ballroom to the tables and chairs on the deck. It's like being on a cruise ship, only smaller! Perhaps that's why the Cabo Rey Snorkeling Tour (like the Deluxe Coastal Cruise in the cruise brochures only better - this one includes lunch, snorkeling, and beach time!) is one of the most popular cruise shore excursions in Cabo San Lucas.
This daytime snorkeling tour takes you in pampered luxury along the coast of Cabo San Lucas, past El Arco and Land's End, where the Pacific Ocean meets the Sea of Cortez, and to one of the best snorkeling areas in Cabo San Lucas - Chileno Bay. You'll also spend time on beautiful Chileno Beach, basking in the sun, swimming, snorkeling or enjoying the various activities that are available on the beach.
Cruise Passengers: Yes! This activity is perfect for a cruise shore excursion.
Runs: Daily from 11:00AM to 2:00PM, from February 16 to December 14 only. In the winter, you can enjoy the Cabo Rey on a whale watching trip!
Duration: 3 Hours
Departs: The Marina in Cabo San Lucas. Directions will accompany your reservation.
Includes: Snorkeling Gear, Deluxe Mexican-Style Buffet (Fajitas), Domestic Open Bar, Onboard Activities
Don't Forget:
Kids: All ages welcome.
DELUXE SNORKELING CRUISE (ADULTS)

Ship Price

Hotel Price

Our Price

You Save!

$64.00
$49.00

$44.00

32%

Compare to "Deluxe Coastal Cruise" Excursion - Only Better!

DELUXE SNORKELING CRUISE (KIDS 6-12)

Ship Price

Hotel Price

Our Price

You Save!

$44.00
$24.50
$22.00
50%
BOOK NOW AND SAVE!
This tour runs from Feb. 16 to Dec. 14 only. Between Dec. 15 and Feb. 15, the Cabo Rey runs their whale watching tour.

Date

Time

Adults

Kids (6-12)


THIS TOUR IS NOT AVAILABLE

OR CALL US TOLL-FREE
1-866-348-6286


Don't worry - English is our First Language!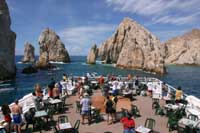 FREE WITH YOUR RESERVATION!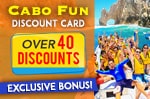 THE CABO FUN CARD
OUR ADVICE:
1. VERY IMPORTANT - Make sure to put on sunblock - SPF 30 or higher! The sun in Cabo is very strong - you don't want to be a lobster!
2. We recommend that you take a seasickness medication like Bonine or 24-hour Less Drowsy Dramamine 1 hour before departure on any boat cruise. It's always better safe than sorry! We just want you to relax and have a great time!
3. Don't forget your camera! With the best vantage point in all of Los Cabos, you'll get some great photos of El Arco and Cabo San Lucas!
4. Remember, your cruise ship doesn't include the snorkeling tour, lunch, or the time on the beach!